Rodèlle – I'm Afraid I'm Not
I had been in talks with Robert from Rodèlle for a long time about doing a video for him. Over the last couple of years talks and plans were ramping up, until finally in 2013, we decided to give it a go.
Script
There was a new Rodèlle EP coming out and we would shoot a video for the first single off the EP, "I'm afraid I'm not". Discussions about what the video should be started and Robert's idea soon grew in my head into a full script. The story revolved around a performer who is up against the challenge of facing a public and doing so in the most vulnerable way possible. Robert wanted to take this notion to the next level and decided that he would perform as a woman.
For him performing live, he feels it's sometimes hard to keep motivating himself. As an artist myself I can relate. This is not an easy country to do non-mainstream music in. The feeling of having to go it alone, overcoming fear and doubt and still give it your all, overcoming the obstacles to break on through to real art is what this track and this video are all about.
Location
With the script finished we turned our attention to finding a location and the props needed to make the story work. One part of the video we shot in a amphitheatre in Enschede and another part was shot in a very upscale hotel resort in the Veluwe. We had a vintage classic car in which Robert was going to be driven around. This thing was massive, like a whale.
We had some trouble with it, when we discovered that the gaspedal would stick to the floor, which gave us a few scares! The motor was revving, there was lots of smoke and an enormous noise. We finally figured it out and found a way to drive the Whale (carefully!).
While Robert was sitting in the front holding the sticks of my tripod with camera on top with one hand, I was lying in the back of the car with my videomonitor directing Robert, as the Whale was driven gingerly by Robert's mother-in-law.
Dancers
I wanted the video to be like a dream, and one of my ideas was to have two dancers in white Zentai suits, drifting in and out of the periphery, towards the drummer and Robert. The girls were good sports when they were presented with their rather strange outfits. Unfortunately the suits didn't fit quite as we'd hoped and we had to find a solution. I finally came up with the idea to wear them front to back, so the zipper didn't need to be closed all the way up and that indeed worked a charm!
Single
In February 2014, the single for I'm Afraid I'm Not was released featuring a still of Robert's face from the music video: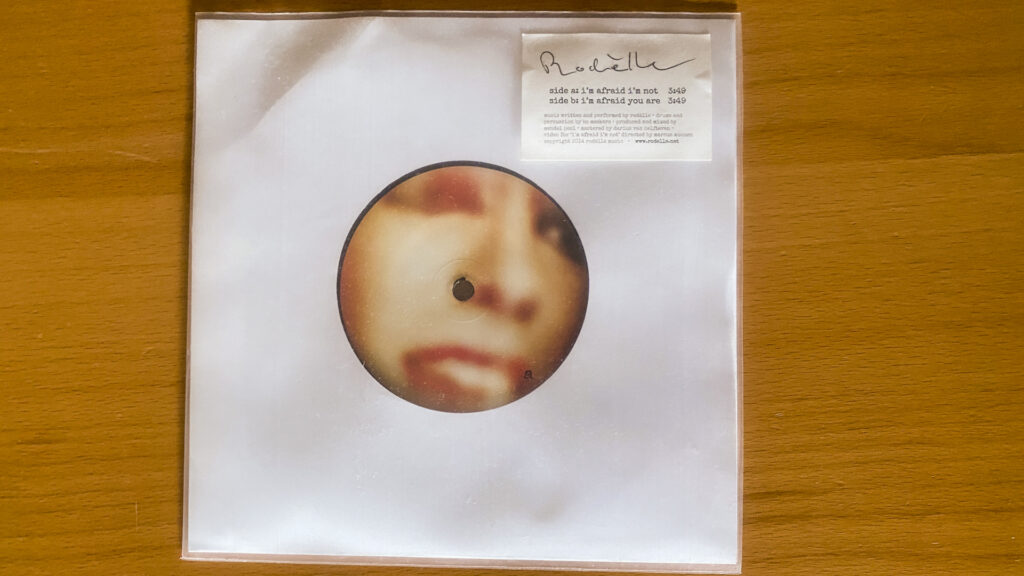 Tech
Shot on my 5d mkII with an array of prime lenses. I edited on Premiere CS6, using some After Effects and plugins for FX and color. If you are interested in collaborating, drop me a line!
Rodèlle – I'm Afraid I'm Not

Official video for Rodèlle – I'm Afraid I'm Not
Limited edition 7″ vinyl for €5: https://rodelle.bandcamp.com
iTunes: https://goo.gl/SfDgkW
Spotify: https://goo.gl/Rl6hOO
Website: https://www.rodelle.org
Facebook: https://www.facebook.com/rodelle
Listen to side B "I'm Afraid You Are" here: https://youtu.be/AyVDgY9mX_4
A film by Marcus Moonen https://www.facebook.com/MarcusMoonenFilms | https://marcusmoonen.com
Limited edition 7″ vinyl now available!
Script by Rodèlle and Marcus Moonen
Directed, filmed and edited by Marcus Moonen
Produced by Rodèlle
Dancers: Daphne de la Cousine & Dominique van Hemert
Styling and Make-up by Aleide Anna Bezoen
Special thanks:
Bo Meskers
Mendel Pool
Sebastiaan van Zanten
Erik Groot
Music by Rodèlle
Lyrics by Rodèlle
Drums and percussion by Bo Meskers
Engineered, mixed by Mendel Pool
Mastered by Darius van Helfteren
(c) & (p) Marcus Moonen (video) & Rodelle.net (audio)