Glaxclock Night #5
Glaxclock Night #5 at Kultuurhuis Bosch, Arnhem, the Netherlands on Saturday April 5, 2008.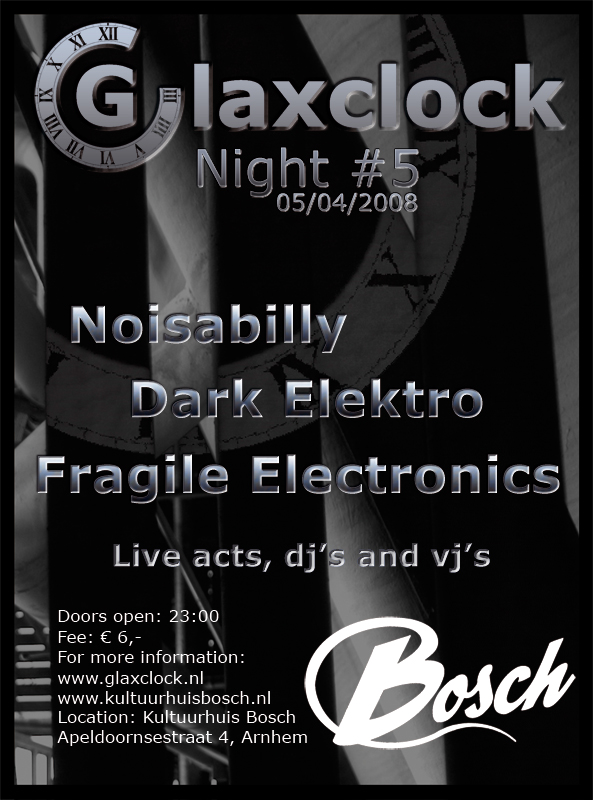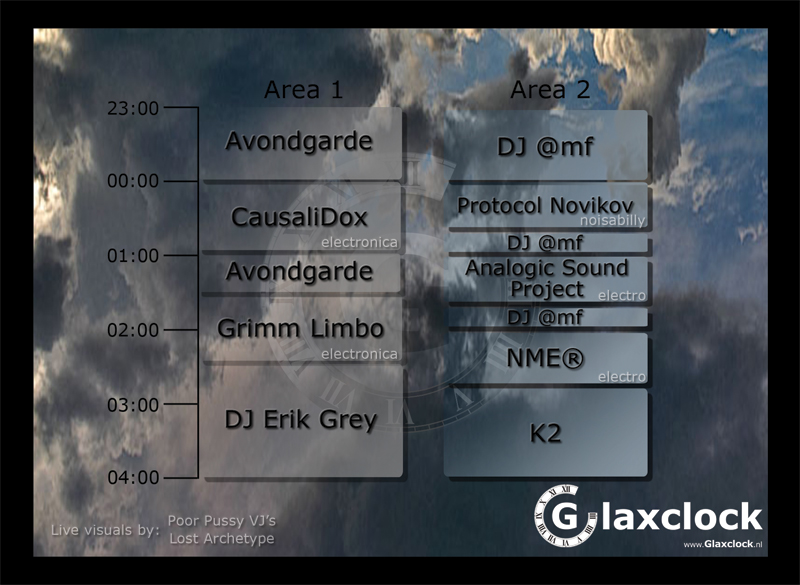 Promo
The line up for Glaxclock Night #5 is final! Check out our promo (in Dutch) right here:
Na het succes van Glaxclock Night #3 in Kultuurhuis Bosch eerder dit jaar, komt het collectief uit Nijmegen terug naar Arnhem voor Glaxclock Night #5.
Glaxclock Night #5 biedt live sets met old-school elektro, noisabilly en breekbare electronica. In Het Watertejater staan CausaliDox en Grimm Limbo. In De Doos maken Protocol Novikov, Analogic Sound Project (Glaxclock Guest, Arnhem) en NME® hun opwachting.
CausaliDox zoekt de melancholie en vervreemding in donkere, gelaagde klanken. Met sprookjesachtige melodieën en dwingende beats lokt Grimm Limbo je mee.
Protocol Novikov maakt glitchy kitsch, minimal noisabilly, electronische chansons en andere anderssoortige discohits. Analogic Sound Project tuigt zijn arsenaal aan puls-, zaagtand- en beat-machines op voor een set old-skool elektro. NME® vervoert en zweept op met zijn gelikte moody elektro.
DJ's @mf (Aesthetics, Grey Area, Insula Avalonia), Avondgarde, Erik Grey (Doornroosje, Stadtkind) en K2 (Glaxclock Guest, Arnhem, BenD, Equivalence) maken de avond af. De visuals worden verzorgd door Poor Pussy VJ's en Lost Archetype.
Voor meer informatie en muziek kijk je op https://www.glaxclock.nl/, www.myspace.com/glaxclock of https://www.kultuurhuisbosch.nl/
Line-up Glaxclock Night #5
Live: CausaliDox, Grimm Limbo, Protocol Novikov, Analogic Sound Project, NME®
DJs: @mf, Avondgarde, Erik Grey, K2 VJs: Poor Pussy VJ's, Lost Archetype
Doors open: 23:00 – 4:00 Fee: €6,-
Photos by Joshua Quicken