Glaxclock Night #9
Glaxclock Night #9 at ACU, Utrecht, the Netherlands on Saturday November 22, 2008. This was the last Glaxclock Night.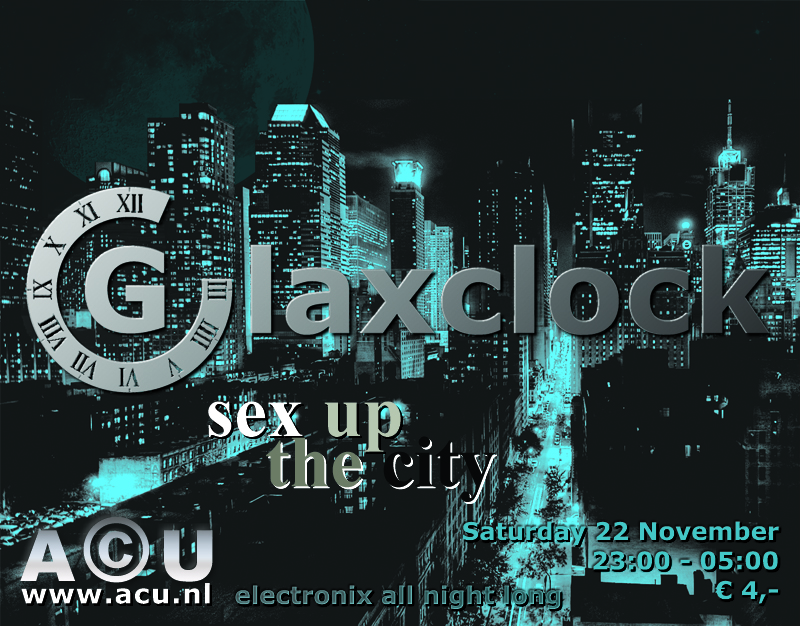 Promo
Exactly eight months after our first night in Utrecht we return to ACU to bring you another Glaxclock Night!
Here's the promo (in Dutch) for Glaxclock Night #9:
Na het grote succes van Glaxclock Night #4 in maart, zorgen we deze keer ook weer voor heerlijke beats en vette grooves. Verwacht smerige old skool electro, dromerige electronica en opzwepende progressive. Vanavond staan er 4 live acts op het podium, 2 dj's draaien de lekkerste platen en onze vj's zorgen voor een visueel orgasme.
Line-up Glaxclock Night #9
23:00 – 01:00 DJ @mf
01:00 – 01:30 NME
01:30 – 02:00 DJ K2
02:00 – 02:45 Analogic Sound Project
02:45 – 03:00 DJ Erik Grey
03:00 – 03:30 Grimm&Grey
03:30 – 05:00 DJ Erik Grey
Fee: €4,-
For more information (and music) go to https://www.glaxclock.nl or https://www.acu.nl/.