Glaxclock Night #8
Glaxclock Night #8 at Unitas, Wageningen, The Netherlands on Saturday October 18 2008.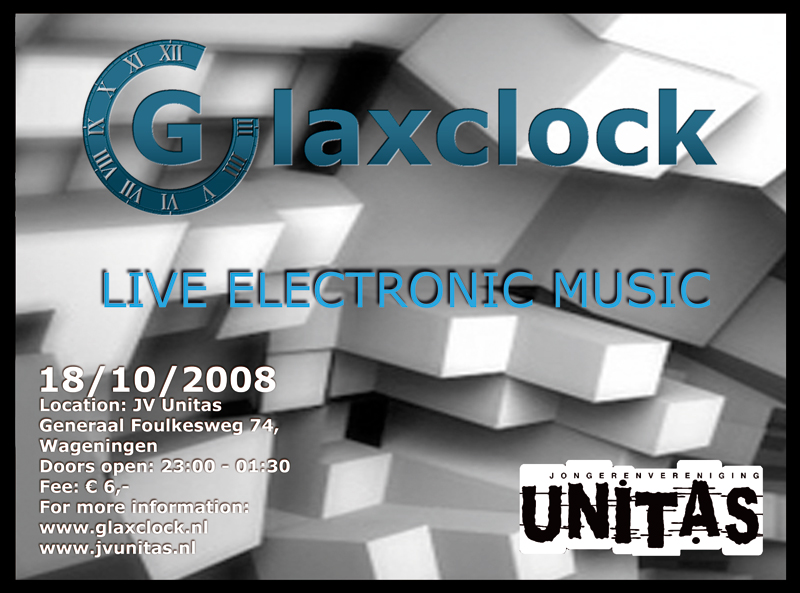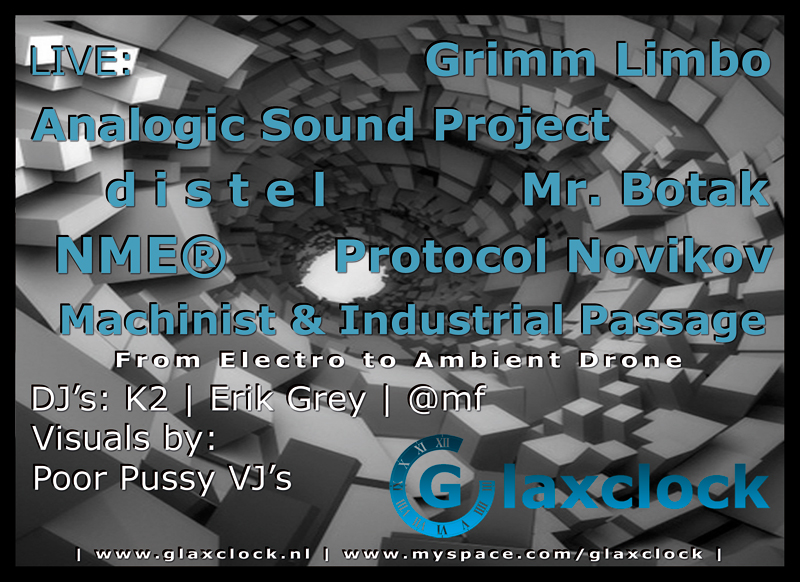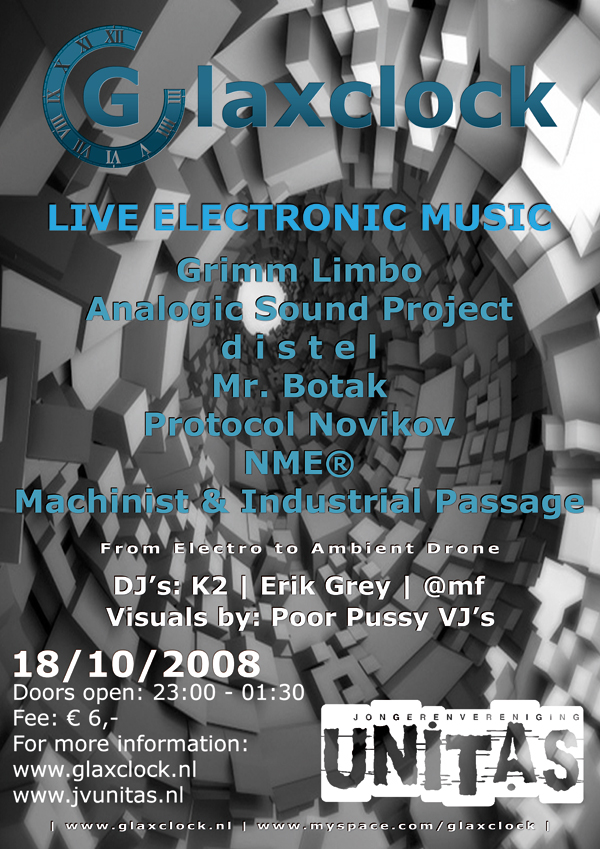 Glaxclock Night #8 @ Unitas, Wageningen NL 18-10-2008
As announced earlier the Glaxclock collective is coming to Wageningen on the 18th of October!
Glaxclock Night #8 has no less than seven (yes 7!) live acts for you, split over two area's. Think old-school electro, noisabilly, progressive, fragile electronics and more.

Machinist & Industrial Passage, Protocol Novikov and d i s t e l will be performing live in the café. In the main room there will be a lot of knob-twiddling by Analogic Sound Project, Mr. Botak, NME® and Grimm Limbo. We have three DJ's to keep it bumping and live visuals to hypnotize you.
Line-up Glaxclock Night #8
The café will be turned into a dark theatre tonite as Machinist and Industrial Passage take the stage. The ambient drones of Zeno van den Broek (Machinist) and Ewell Juliana (Industrial Passage) create spaces; architecture in sound; images and have involuntary deeply tangible impact.

Protocol Novikov does glitchy kitsch like no other, it's minimal noisabilly, electronic chansons and other "other" disco hits.

d i s t e l's wrought angstpop is the sound of rust, inhibition, grudge and despair.

In the main room Analogic Sound Project is ready to attack with his armory of pulse-, saw- and beatmachines. Old-skool electro, baby, the fattest grooves around.

Mr. Botak is bald and mysterious. His dark danceable electro is as mysterious, smooth and exciting as he is.

When NME® allows his beats and bleeps to come out, there is no stopping your legs dancing to the sound of euphoria.

Grimm Limbo dreams up dark fairytales and translates them into music. His melodic rituals awaken your feet and take you far away.

DJ's @mf (Aesthetics, Grey Area, Insula Avalonia), Erik Grey (Doornroosje, Stadtkind) en K2 (Glaxclock Guest, Arnhem, BenD, Equivalence) take care of everything else. They are your guides. Live visuals are created by Poor Pussy VJ's and Lost Archetype.
Location: Unitas
Generaal Foulkesweg 74, Wageningen
Doors open: 23:00-01:30
Fee: € 6,-
For more information (and music) go to www.glaxclock.nl or https://www.jvunitas.nl/.