Glaxclock Night #7
Glaxclock Night #7 at Kultuurhuis Bosch, Arnhem, The Netherlands on Saturday August 30, 2008.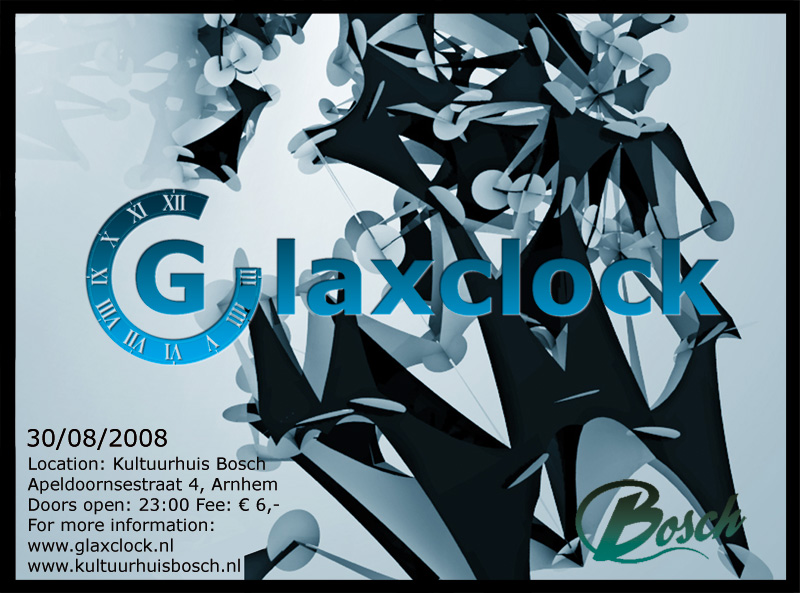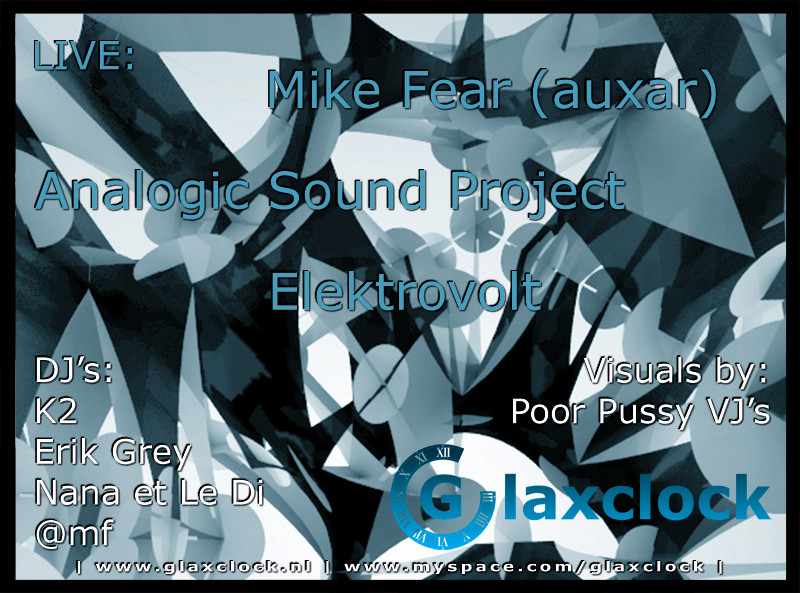 Promo
The line up for our 2nd anniversary birthday bash in Kultuurhuis Bosch is finalized!
We're gonna kick the jams, pump the bass and groove that ass with some low down 'lectro and enough sleaziness to make Rocco Siffredi squirm!
Here is the blurb (in Dutch):
Het Nijmeegse Glaxclock collectief bestaat 2 jaar deze zomer en daarom geven we een speciaal verjaardagsfeestje in Kultuurhuis Bosch.
Voor Glaxclock Night #7 hebben we een heerlijke mix van electro, acid, IDM en sleaziness voor je bij elkaar gezocht. In de Doos staan vanavond drie live acts achter de knoppen en in het Watertejater regeert het DJ Duo from Hell Nana et Le Di samen met DJ @mf de dansvloer.
Mike Fear (auxar, Nijmegen) zorgt voor de nodige funky beats en breaks met zijn eclectische electronische stijl. Na dampende sets op onder meer de Loveparade en Doornroosje zet hij vanavond de dansvloer in de Doos in vuur en vlam.
Analogic Sound Project met zijn wapentuig aan puls-, zaagtand- en beat-machines staat altijd garant voor een set rauwe old-skool elektro. Dikke grooves, freaky beats en een heleboel knoppen!
Elektrovolt uit low down dirty brown Den Haag serveert een flinke portie elektro grok met saus. Een stampende 808, melancholische synths en basslijnen zo funky als je teennagel.
DJ´s Erik Grey (Doornroosje, Stadtkind) en K2 (Glaxclock Guest, Arnhem, BenD, Equivalence) pompen de Doos vol, terwijl Nana et Le Di (DJ Duo from Hell, Skandal, Merleyn) en DJ @mf (Aesthetics, Grey Area, Insula Avalonia) zorgen voor sappige sleazy disco in het Watertejater. Poor Pussy VJ's strelen je oogbollen met fijn beeldmateriaal.
Line-up
Live:
Mike Fear
Analogic Sound Project
Elektrovolt (canceled)
DJ's:
Erik Grey
Nana et Le Di
@mf
VJ's:
Poor Pussy VJ's
Voor meer informatie en muziek kijk je op www.glaxclock.nl of https://www.kultuurhuisbosch.nl/
Location: Kultuurhuis Bosch
Apeldoornsestraat 4, Arnhem
Doors open: 23:00 Fee: € 6,-